BLACK MADONNA PRIVATE TOUR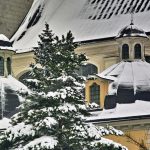 PERSONALIZED PRICING || QUALITY CUSTOMIZATION
7 hrs || Door-to-Door || Private 1-6 Pers (7+ on request) || Exclusive Van/Coach
Black Madonna Private Tour to Czestochowa is the visit to Bright Mount Monastery where the famous Icon of Mary with Jesus is kept. It is the capital of Polish Catholicism visited by over 3 million people each year. It is one of the most famous pilgrimage site in the world. All due to the famous Icon considered by many believers and not only to be miraculous.
For centuries the place is also center of Polish identity. The Black Madonna is named Queen of Poland and historical event took place in 1655 there. Swedish who attacked Poland conquered all big cities but couldn't conquer the monastery. It was finally the turning point in war.
Apart of Icon itself on this fortified monastery situated on the Bright Mount You will see the beauty of gothic Chapel, baroque Basilica and the Treasury with e. g. St Therese's veil, JFK's ring or Walesa's pen.
Tour Includes:
* English Speaking Passionate Guide (extra facts, stories, places)
* Door-to-Door Pick Up & Drop Off (hotel, airport, station, etc..)
* Comfortable, Modern & Elegant Van or Coach (on request)
Local Cash Needed:
* 20 PLN – estimated per person for Papal Cream Cake with coffee/tea/… if wanted
Itinerary:
* Meeting at the location set by You in or near Krakow (hotel, airport, . . . ),
* Visit to the Basilica with Black Madonna's Shrine,
* Participation in Black Madonna's Icon closing and/or opening ceremony,
* Visit to the Treasury with plenty of interesting gifts from noble and famous people (e. g. St Therese's veil, ring given by JFK or Walesa's medal),
* Walk around the monastery along stations of the cross situated on its huge defensive walls.
On request:
Other places may be visited additionally or instead on Your request.
On the same day this tour is often combined with Auschwitz-Birkenau, John Paul II Tour, Salt Mine Tour, Krakow Sightseeing or others. If You wish to or have any other questions, requests or suggestions please do not hesitate to contact us.