EAGLES NESTS CASTLES PRIVATE TOUR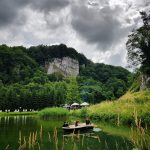 PERSONALIZED PRICING || QUALITY CUSTOMIZATION
35 km || 5 hrs || Door-to-Door || Private 1-6 Pers (7+ on request) || Exclusive Van/Coach
Ojcowski NP is situated only 30 km north out of Krakow. It is valley of river Pradnik surrounded by beautiful woods, 25m high limestone rocks and caves. The most amazing however are eagles nests castles situated there.
In XIV century there was important trade route from Krakow to the west therefore Gothic castles were built there on the rocks to protect it. They are called Eagles' Nests due to their location on tops of the rocks. One of them is ruined although looking amazing and one in Pieskowa Skala is renovated and considered to be the pearl of Gothic-Renaissance architecture in Poland. It may be visited inside.
In XIX Century there was also health resort under Russian occupation so beautiful old wooden spa buildings – houses, baths, water mills and chapel on the water – can be found there as well as health resort park.
Tour Includes:
* English Speaking Guide (flexibility, extra facts, stories, places)
* Door-to-Door Pick Up & Drop Off (hotel, airport, station, etc..)
* Comfortable, Modern & Elegant Van (or Coach on request)
Local Cash Needed:
* 20 PLN – If You like to visit interiors of Pieskowa Skala Castle with exhibition of Polish Paintings.
Itinerary:
* Meeting at the location set by You in or near Krakow (hotel, airport, . . . ),
* Drive 30 km north to Ojcowski National Park and visit to Pieskowa Skala Castle (one of "Eagles Nests" Castles) which is pearl of gothic-renessaince architecture in Poland (if You like You may visit also interiors with exhibition of e. g. Polish paintings),
* Photo stop at Hercules Club (28m high lonely rock) with castle at the back,
* Drive to Chapel on the Water created by Polish under Russia occupation from one of wooden spa buildings,
* Nice walk in Ojcow Village with ruins of another gothic castle (another "Eagles' Nest"), with XIXc Resort Park, with wooden houses and spa buildings,
* Panoramic view on the beautiful valley of river Pradnik with woods and 25m high limestone rocks around,
* Travel back by the other road and finish in the place set by You in or near Krakow (hotel, airport, . . . ).
On request:
Other places may be visited additionally or instead on Your request.
On the same day this tour is often combined with Auschwitz-Birkenau, Salt Mine Tour, Krakow Sightseeing, Black Madonna Tour or others. If You wish to or have any other questions, requests or suggestions please do not hesitate to contact us.