JOHN PAUL II PRIVATE TOUR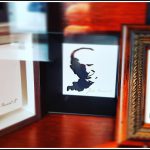 PERSONALIZED PRICING || QUALITY CUSTOMIZATION
UNESCO || 50 km || 4,5 hrs || Door-to-Door || Private 1-6 Pers (7+ on request) || Exclusive Van/Coach
Private Tour of John Paul II Route will take you through the southern parts of Krakow at the foot of Carpathian Mountains. The route is important not only for believers but for all who want to understand history and life of this unusual man and environment in which he was growing to become charismatic pope. In the same time it is also the story about Poland, culture and the spirit of Polish as well as about beauty of the region. During Private Tour of John Paul II you will hear many important and moving stories and see special places which are usually not shown.
Tour Includes:
* English Speaking Passionate Guide (extra facts, stories, places)
* Door-to-Door Pick Up & Drop Off (hotel, airport, station, etc..)
* Comfortable, Modern & Elegant Van or Coach (on request)
Local Cash Needed:
* 20 PLN – estimated per person for Museum of John Paul 2 and Papal Cream Cake with coffee/tea/…
Itinerary:
* Meeting at the location set by You in or near Krakow (hotel, airport, . . . ),
* Drive to Wadowice and visit to the House-Museum of John Paul II with plenty of his personal belongings and Church where he was baptised.
* Visit to Kalwaria Zebrzydowska Monastery beautifully situated between hills and woods (UNESCO) with miraculous image of Mother of God of Angels which was important for K. Wojtyla,
* Visit to Sanctuary of Divine Mercy in Krakow-Lagiewniki consecrated by John Paul II where world famous image of Merciful Jesus and remnants of St Faustina are situated,
* Stop by the house in Krakow near Wisla river where Karol Wojtyla and his father moved after first 18 years spent in Wadowice,
* We may finish in the center of Krakow by famous Papal Window in Archbishop Palace or in the place set by You in or near Krakow (hotel, airport, . . . ).
On request:
Other places may be visited additionally or instead on Your request.
On the same day this tour is often combined with Auschwitz-Birkenau, Zakopane Tour, Salt Mine Tour, Krakow Sightseeing or others. If You wish to or have any other questions, requests or suggestions please do not hesitate to contact us.