KRAKOW PRIVATE WALKING TOUR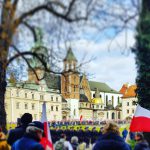 PERSONALIZED PRICING || QUALITY CUSTOMIZATION
UNESCO || 4 hrs || Door-to-Door || Private 1-6 Pers (7+ on request)
Krakow Private Walking Tour will show You around the most important sites. Krakow is the former (and still the longest) capital of Poland and its cultural and spiritual center. It was inscribed on the first UNESCO Heritage List among 12 most valuable sites in the world. Artists & students, churches & palaces, restaurants & cafes, little streets & squares and the Wawel Castle over the Wisla river altogether create important, charming and unforgettable atmosphere that You will experience during this tour. Private Tour of Krakow will show You the best and also some hidden places of this amazing and unique city.
Tour Includes:
* English Speaking Passionate Guide (extra facts, stories, places)
Local Cash Needed:
* 10-20 PLN/pers for entrances where possible and wanted
Itinerary:
Tour includes walk in the Old Town and Kazimierz Former Jewish Quarter + possibility of coffee/snack break in charming spot if wanted.
* Meeting at the location set by You in Krakow,
* Royal Route in the Old Town,
* Main Market Square with St Marys Basilica, Cloth Hall and Town Hall Tower,
* Colegium Maius – the oldest part of Jagiellonian University (courtyard),
* Archibishop Palace with John Paul 2 window,
* Sts Peter & Paul baroque Church,
* Wawel Castle Courtyard and Cathedral,
* New (Jewish) Square,
* Old and Remuh Synagogues (interior of Remuh with cemetery if open).
On request:
Other places may be visited additionally or instead on Your request.
On the same day this tour is often combined with Private Auschwitz-Birkenau Tour, Schindler's Factory Tour, Salt Mine Tour and other Private Tours of Krakow. If You wish to or have any other questions, requests or suggestions please do not hesitate to contact us.