SLOVAKIA PRIVATE TOUR with ZAKOPANE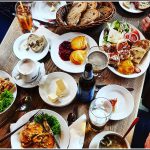 PERSONALIZED PRICING || QUALITY CUSTOMIZATION
9-10 hrs || Door-to-Door || Private 1-6 Pers (7+ on request) || Exclusive Van/Coach
Slovakia is situated only 2 hrs drive from Krakow (with no border control). Beautiful mountains, nature landscapes and amazing objects of culture make this country and Polish-Slovakian borderland very popular and attractive destination.
One of the top attractions is the most beautiful castle in whole Slovakia – mediaeval Orava Castle – situated high on the rocks 100 m over the Orava River. The other great spots are little towns of Trstena, Tvrdosin and Podbiel village where You will see different "specialities" of Slovakia. On the Polish side of border You will visit famous Zakopane Mountain Resort with important and beautiful wooden objects dwelled in special local atmosphere based on unique local traditions and amazing landscapes of high rocky Tatras – the highest mountains in Central Europe. Old Cemetery with unique graves of important Polish or Local Market with cheese and wooden products are some of examples of the sites that will amaze You.
Tour Includes:
* English Speaking Passionate Guide (extra facts, stories, places)
* Door-to-Door Pick Up & Drop Off (hotel, airport, station, etc..)
* Comfortable, Modern & Elegant Van or Coach (on request)
Local Cash Needed:
* 8 EUR – per person for entrance to the Orava Castle if wanted;
You may have equivalents in PLN or USD if more comfortable for You.
Itinerary:
* Meeting at the location set by You in or near Krakow (hotel, airport, . . . ),
* Visit to little courtyards and chambers of amazing Orava Castle with highest part situated on top of the rock,
* Possibility to try traditional Slovakian food if wanted in merchant town of Trstena,
* Driving through Chocholow Village which is the 'living museum' with 100 inhabited wooden houses ("travelling in time"),
* Short and easy walk or drive along Gubalowka Mount with panoramic views of impressive Tatras,
* Visit to the centre of Zakopane with its beautiful and important places: oldest wooden church, famous little cemetery, Krupowki street, local traditional market and others.
On request:
Other places may be visited additionally or instead on Your request: Dunajec Rafting, Thermal Spa Pools, Hiking and others. If You have any other question, request or suggestion please do not hesitate to contact us.