WARSAW TOUR FROM KRAKOW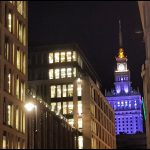 PERSONALIZED PRICING || QUALITY CUSTOMIZATION
UNESCO || 12 hrs || Door-to-Door || Private 1-6 Pers (7+ on request) || Exclusive Van/Coach
Warsaw is the Capital of Poland with fascinating history and modernity in the background. This history had different turning points during XVII cent., WW2, communism and (post)modernity. The city is beautiful and has got many faces that we will see and explore. This full day tour allows You to have whole picture and recognition of the city as well as to see beautiful Polish landscapes and towns of regions on the way.
Tour Includes:
* English Speaking Guide (flexibility, extra facts, stories, places)
* Door-to-Door Pick Up & Drop Off (hotel, airport, station, etc..)
* Comfortable, Modern & Elegant Van (or Coach on request)
Local Cash Needed:
* 30-50 pln if wanted per person for admissions
Itinerary:
* The Warsaw Tour includes all needed drives and stops/walks,
* Meeting at the location set by You in or near Krakow, Warsaw, on the way… (hotel, airport, …),
* The Old Town: Royal Castle, Cathedral, Main Market Square, Barbican,
* Visit to the former Jewish Ghetto Site, Umschlag Platz,
* Visit to the New Town with Communist Palace of Culture and other more modern skyscrapers,
* Drive to Royal Residence and Park of King John III Sobieski.
On request:
Other places may be visited additionally or instead on Your request.
On the same day this tour is often combined with Auschwitz-Birkenau or others. If You wish to or have any other questions, requests or suggestions please do not hesitate to contact us.