ZAKOPANE PRIVATE TOUR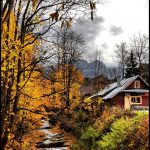 PERSONALIZED PRICING || QUALITY CUSTOMIZATION
7-8 hrs || Door-to-Door || Private 1-6 Pers (7+ on request) || Exclusive Van/Coach
Zakopane Private Tour includes the tour to the capital of Polish mountains – Zakopane. It is the center of wooden architecture & local traditions in Poland situated near Krakow on the border with Slovakia. It is popular place of culture in its different unique aspects creating very special atmosphere as well as for hiking and relax (e.g. thermal spas). It is the most famous ski resort in the wintertime.
Private Zakopane Tour shows you the Tatra Mountains as well. This is the highest range of Carpathians (and in whole Central Europe) hanging over Zakopane up to 2500m over the sea level. The beauty of Tatras may be admired from different places in Zakopane and around while on tour. This private tour is designed to be enjoyable for everybody: those who love walking and those who have problems with it.
Tour Includes:
* English Speaking Passionate Guide (extra facts, stories, places)
* Door-to-Door Pick Up & Drop Off (hotel, airport, station, etc..)
* Comfortable, Modern & Elegant Van or Coach (on request)
Local Cash Needed:
* 40 PLN – per person for funicular, entrances.
Itinerary:
* Meeting at the location set by You in or near Krakow (hotel, airport, . . . ),
* Visit in Chocholow Village which is the 'living museum' with about 100 inhabited wooden houses in the same style (You will feel like travelling in time),
* Ride with the funicular from Gubalowka Mount,
* Little easy but impressive walk along Gubalowka Mount with panoramic views of Tatras,
* Visit to local market with skins, cheese and local wooden products,
* Visit to Tatras Museum and the oldest Wooden Church in Zakopane with Cemetery where many important Polish are buried.
On request:
Other places may be visited additionally or instead on Your request.
On the same day this tour is often combined with Dunajec River Rafting Private Tour, Private Tour to Slovakia, Salt Mine Private Tour, John Paul II Private Tour or others. If You wish to or have any other questions, requests or suggestions please do not hesitate to contact us.